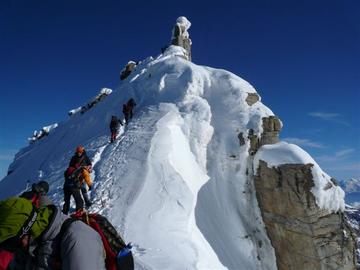 Due to an unusually large amount of snowfall we were unable to attempt Mont Blanc. The snow conditions were very treacherous (especially the Grand Couloir) and so after discussions with the guides we were given the option to climb up to the Tete Rousse hut and have a closer look at the conditions or to use the day to do find some alternative activities.The guides were really helpful in advising us to make a rational decision about the climb and, although we were very disappointed not to have the chance to give Mt Blanc a proper attempt, we felt we were given very good advice on the pros and cons of the options and also a very clear analysis of the safety aspects of the route. John was very good in rearranging our schedule to make the most of the remaining four days we had.
He was able to book as all in to the Vittorio Emanuele hut on Gran Paradiso (the highest mountain in Italy at 4,061m) and we had two superb days climbing that peak (and if anyone thinks it isn't a challenge we met Kenton Cool doing the same thing with his clients!). The G.P. is a super climb and the vertical ascent is comparable with Mt Blanc as you start from around 1,900m. The final ridge (see photo) is pretty spectacular and the views form the top are great – looking across to the Matterhorn and back to Mt Blanc itself. The other highlight of the week was spending Friday climbing the Arete des Cosmiques (which leads up to the cable car station on the Aiguille du Midi).
This was snow covered rock and more technical than Gran Paradiso and gave us a first insight into developing some more climbing skills. So, while we did fail in our main aim of climbing Mont Blanc due to the weather, the week was a great success and we all came away feeling we had probably had a more varied and rewarding week in many ways. The diversity of the activities that John and the guides were able to arrange at such late notice was superb. Oh….and we need to go back and do Mt Blanc at some point!